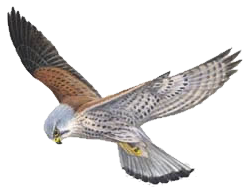 Kestrel
Kestrel is a simple, distributed message queue written on the JVM, based on Blaine Cook's "starling".
Each server handles a set of reliable, ordered message queues, with no cross communication, resulting in a cluster of k-ordered ("loosely ordered") queues. Kestrel is fast, small, and reliable.
Features
memcache protocol
thrift protocol
journaled (durable) queues
fanout queues (one writer, many readers)
item expiration
transactional reads
For more information, check out the readme.
News
5 Nov 2012 - kestrel 2.4.1 released

21 Sep 2012 - kestrel 2.3.4 released

23 Aug 2012 - kestrel 2.3.2 released

16 Jul 2012 - kestrel 2.3.1 released

11 May 2012 - kestrel 2.2.0 released

12 Jan 2012 - kestrel 2.1.5 released

21 Nov 2011 - kestrel 2.1.4 released

13 Oct 2011 - kestrel 2.1.3 released

29 Sep 2011 - kestrel 2.1.2 released

23 Sep 2011 - kestrel 2.1.1 released

27 Aug 2011 - kestrel 2.1 released
Further Reading
Downloads
Development
Development of kestrel occurs on github:
Join our mailing list: